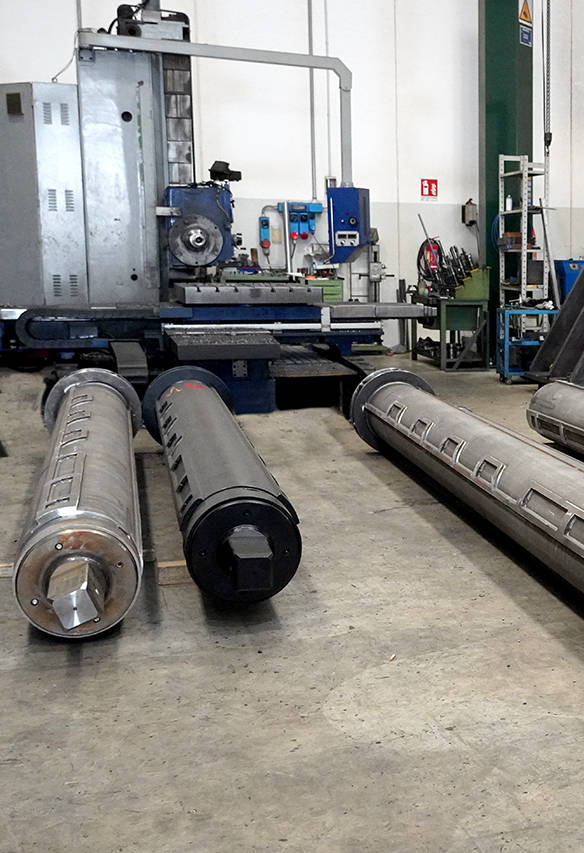 Telescopic poles
The telescopic poles, also called kelly bars, are assembled in the drilling machineries and applied to realize depth wells, for casting concrete, for making foundation piles.
They transfer both torque and vertical push due to rotary to the drilling tool.
The M.E.C. srl Meccanica Alfonsine kelly bars are composed by several locking elements: there are telescopic seamless mechanical pipes with different diameter and thickness, provided with welded external drive rails and internal locking pockets. The working can be interlock or friction device.
These racks transfer the torque from the external elements afterwards to the inner; when extracting the drilling tool from down to the hole, the rotary operates in counterclockwise way and it allows the telescopic elements to unlock.
The locking device is optimal to drilling into hard surfaces, when maximum torque and crowd force are required. The friction device is instead preferred to work medium hard soil conditions.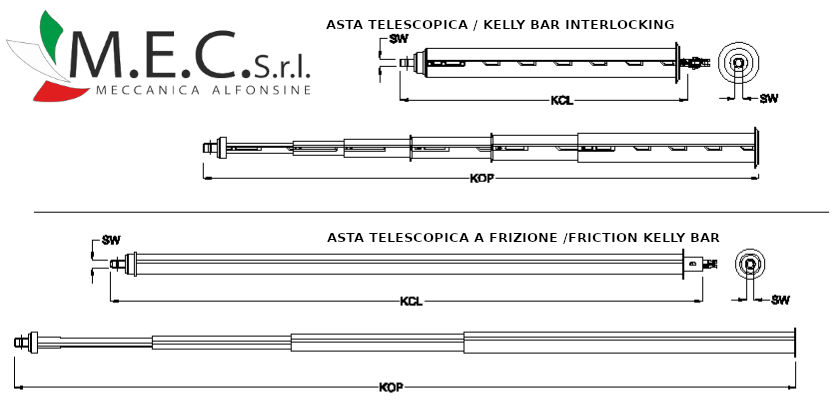 •

BARS
:   5 (Nr)
•

NOMINAL MAXIMUM TORQUE
:   138 / 102 KnM / lbft
•

KCL RETRACTED LENGHT
:   9.115 / 29' 11" mm / ft
•

KOP WORKING LENGHT EXTENDED
:   38.000 / 125' mm / ft
•

DPT PDRILLING DEPTH
:   37.000 / 120' mm / ft
•

SW DRIVE STUB
:   130 X 130 mm x mm
•

WEIGHT
:   5600 / 12.350 kg / lb